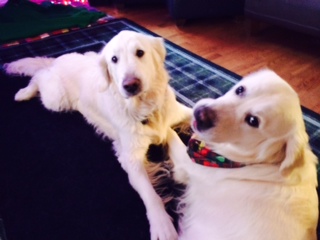 Here in the Chicago area, wintertime is long and cold. We have to stay inside a lot more and it gets BORING for Brighton and Snowdon. We get up early in the morning and take a quick walk around the block, sometimes when it is still dark outside as days are shorter in winter. Then we RUSH back home as we can't wait to EAT our breakfast!!! We are soooo hungry in the morning. Brighton does a lot of woofing to let Pops know to hurry up with the chow. After breakfast we chill out for a snooze with our full tummies. Then we awake with such vim and vigor that we need PLAY. Snowdon is always the one to start the attach. He pounces and pulls on Brighton's scruff, and then Brighton is on the defense but eventually begins to wrestle with equal vigor. Thank goodness we have each other to work off some of our pent up wintertime cabin fever. Oh boy, all of us can't wait for the days to be longer and for it to get a little warmer so we can take longer walks and stay outside!
WINTER INSIDE IS SUCH A BORE
COLD WALKS OUTSIDE SEEM A CHORE
MORE TIME INSIDE WITH EACH SHORTER DAY
THANK GOODNESS WE CAN WRESTLE AND PLAY!